About Us
Complete Eye Care of Medina has been established to serve the need of a growing community. As new families and individuals move into the area, we would like to assure them our expertise, personal level of service, and attentiveness to their eye care needs will be met at our clinic.

Dr. Wesley has established herself within the Twin Cities as a leader within the optometric community, volunteering with the Minnesota Optometric Association, lecturing to both optometrists and their staff, and donating her time and effort to improve children's vision. Complete Eye Care of Medina will continue to be an extension of that dedication, priding itself on comprehensive care and legendary customer service.
Thank you to all our patients that cast their ballot for us for Plymouth Magazine's Best of for 2014!! We were finalists in two categories:
Best of Eyewear
Best of Small-business Customer Service
For 2015 - we were again a finalist in the category of
Best Eye Clinic! Thanks to all who voted for us!



Lori and Patty at 2015 Best Of Event



HOW IS COMPLETE EYE CARE OF MEDINA DIFFERENT?
Exam Equipment and Testing:
Retail
Complete Eye Care
Auto Refractor
Yes
Yes

Digital Retinal Imaging:

*Including additional Glaucoma and Macular Degeration Testing

*3 Different Tests

Uncommon

Yes

Retinal Scan
No
Yes
Corneal Topography
No
Yes

Intraocular Tonometry (Eye Pressure)

*Unlike many retail settings, we offer an alternative version to the "puff" test.

Yes

Yes

External Ocular Photography
No
Yes
SERVICES:

Refraction

Yes

Yes

Dilation with Exam - Situation Appropriate

Yes

Yes

Coordinated Care with Primary Physician
Uncommon
Yes
Certified Opticians
Uncommon
Yes

Specific Objectives in Preventative:

*Care and Eye Health

No
Yes

Extensive Contact Lens Evaluations

*Including Advanced Soft and Hard Contact Lenses

*Corneal Reshaping Therapy Technology

Uncommon
Yes

Continuous Care of:

*Oncoing Conditions

*Or Diseases

No
Yes

Specific Care for:

*'Dry Eyes'

*Specialized Child/Infant Exams

*Management of Complex Prescriptions

No
Yes

Products:

Budget Frames
Limited
Yes
Latest Designer Frames
Minimal
Yes

Frame Size/Color Options:

*Current in stock frame selections

Limited
Yes

Latest Technology & Custom Lens Design

*Single Vision and Progressive/No-Line Bifocal Designs

*Most are outdated technology in retail setting

Limited
Yes

Digitally Fabricated and Free-Form Lens Options

*Single vision and Progressive/No-Line Bifocal Designs. This allows for you to get the most functional and clearest vision possible.

Limited
Yes
Dr. Gina Wesley, OD, MS, FAAO

Dr. Wesley grew up in Pipestone, Minnesota and received her bachelor's degree at the College of Saint Benedict. She then went on to The Ohio State University, where she pursued concurrent degrees in both clinical optometry and masters in vision science.

Accolades for Dr. Wesley include The Ohio State University College of Optometry 2006 Graduate of the Year and fellowship within the American Academy of Optometry. She enjoys all aspects of primary care, especially contact lenses and children's eye exams. Dr. Wesley enjoys travel, reading, and spending time with her family.
Congrats to Dr. Wesley for being 2011's Minnesota Young Optometrist of the Year!
Dr Wesley was also nominated in 2013 for the Early Professional Achievement Award from The Ohio State University College of Optometry Alum Association - the criteria was an alum who is 15 years or less out of school who has demonstrated professional achievement and success within the optometric industry.
In July of 2013, Dr. Wesley was selected by the readers of Review of Optometric Business and Vision Monday as a "2013 Optometric Business Innovator." A Professional Advisory Panel of optometrists helped identify Optometric Business Innovators from across the U.S.—individuals who excel at using creative and results-oriented approaches in the following areas:


* Marketing
* Digital Media
* Business Management
* Dispensary (Optical Dispensing)
* Dispensary (Contact Lens Dispensing)
* The Patient Experience
* Influencers


In 2014, Dr. Wesley was voted one of the Most Influential Women in Optical by readers of Vision Monday and 20/20 magazines.
Lori is in Patient Administration and has been in the Optical industry here at CEC of Medina for 1.5 years. She's been married to Tony for 17 years and has 3 kids. Her family keeps her busy - having 2 teenagers and a 5 year old makes for never a dull moment. She enjoys spending time with family and friends and attending her kids sporting events. What does like about CEC of Medina? "I'm happy that I'm able to work part-time. I love the atmosphere at CEC.".
Nickie is our Technician and Contact Lens Coordinator. She has been in the optical industry for 10+ years. She enjoys spending time with her significant Derek and two weimaraner dogs in Minneapolis. "We like to go to sporting events and explore the city". Her favorite hobbies are traveling, concerts and family time. What she likes about CEC of Medina: "I like the small town feel and our patients are very pleasant. Sometimes it doesn't even feel like I'm at work!"
Patty is our Patient Administrator and also does some Clinic Administration. She has been in the Optical industry 5+ years, all of which here at CEC of Medina. She is married to Tom and has 5 children. She loves cruising Lake Sarah on the pontoon or jet ski with her family and watching her kid's sporting events. What she likes about CEC of Medina? "I love the location, my coworkers and our fabulous patients. I also love working for a doctor who is so innovative, influential and who truly cares about the lifelong ocular health of her patients."
Angela
is primarily a
Technician
but you may also find her assisting in Optical or at Front Desk. She's been in the industry for 2.5 hears.
She lives with her significant other Chris, their cat Barnaby Jones and their bearded dragon. She enjoys doing crafts and anything outdoors. What does she like about CEC of Medina? "I love working with a team who truly cares about eye care and working in an upbeat energetic environment!
Jennifer is an Optician/Frame Stylist and has been in the Optical industry for 20+ years! She lives in Plymouth with her significant other Kurt and her two cats, Cherry and Kohl. Jennifer loves fishing, camping, gardening, jogging and watching football. What does Jennifer like about CEC of Mediina? "I appreciate the teamwork and the friendships with my coworkers. It's a joy coming into work knowing that I'm helping the patients that live in my community."

Jenny is a Technician and our Vision Therapy Coordinator and has been in the industry 1 year here at CEC of Medina. She is married and has three children. She loves spending time with her family. What does she love about CEC of Medina? "This is a small office in a small area, and it has been great getting to know the dedicated patients in the area".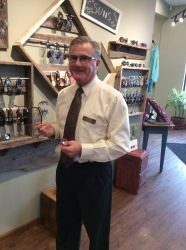 Don is an Optician/Frame Stylist and has been in the Optical industry 2+ years here at CEC of Medina. He is married to his lovely wife Melonie and has 3 children. His wife is a gourmet cook which is good because Don likes to eat. What does Don like about CEC of Medina? "I love the teamwork, how we help each other out and look out for each other. I love how we go through our "Why we are here" together as a staff with Dr. Wesley every Monday morning!"
NOT PICTURED:

Alissa - Insurance Coordinator
Linda - Clinic Admin